SZENTENDRE – A COLOURFUL CHARMING ESCAPE FROM THE CITY
Budapest is a bustling, buzzing city that never rests - there is always something going on or something to see: festivals, events, concerts and parties. It is therefore a great place to live as you will never get bored or run out of options of things to do. However, this can also be a curse for a student – especially during the summer months – on pleasant sunny days its much more desirable to be sitting on Szabadság híd watching the sunset or picnicking at Margit-sziget with friends, rather than studying for exams!
But I, I'm sure like many others, feel like we need a break every so often from the craziness and hustle and bustle of the city. Fortunately, Hungary offers countless options if you feel like you want to escape the city to go somewhere quieter for a bit. There are many places in the countryside where you can retreat to unwind and relax. And Budapest is ideally and conveniently located to easily access these places within a few hours.
Recently I felt like I needed a little break from the city, so I decided to explore a nearby town. Szentendre is a town on the banks of the Danube very close to Budapest – only 30 km north. It is the last stop of the HEV 5 Suburban Railway, and the journey is very quick taking less than an hour. I boarded the train at Batthyány tér, the train then travels through Budapest's outer suburbs, past Margit-sziget and Óbudai-sziget. As it approached Szentendre the rolling green hills of Pilis were visible in the distance, and I started to really feel like I had left the city and was in the countryside.
As soon as you get off the train, leave the station and start wandering through the cobblestoned streets you can feel Szentendre's laid-back atmosphere. The streets in the town are filled with brightly coloured buildings, historic churches, sculptures, cafés and interesting shops. One of the most iconic and unique sights of the town center are the large, colourful mismatched lamp shades strewn above the streets. Castle Hill, where a castle once stood in the middle ages, is very close to the main square and you have a wonderful view of the whole town from up there.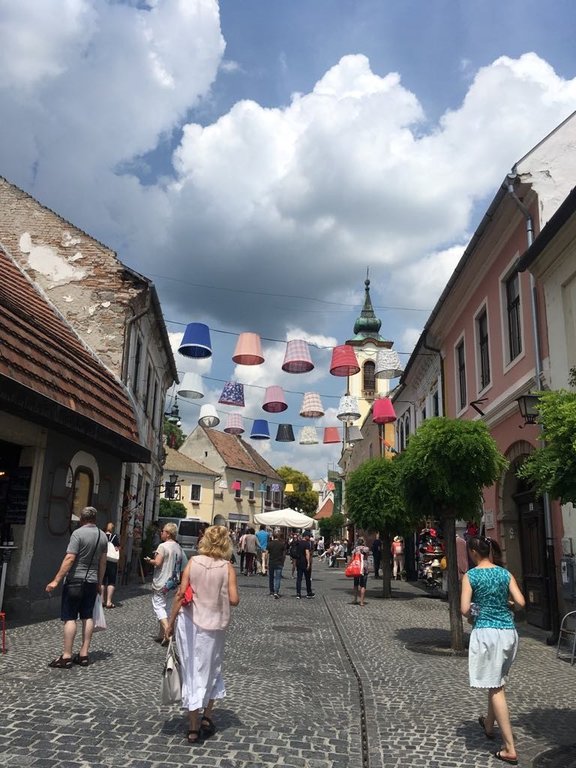 Take a stroll down the cobblestone streets and browse through souvenir shops, bookstores and galleries.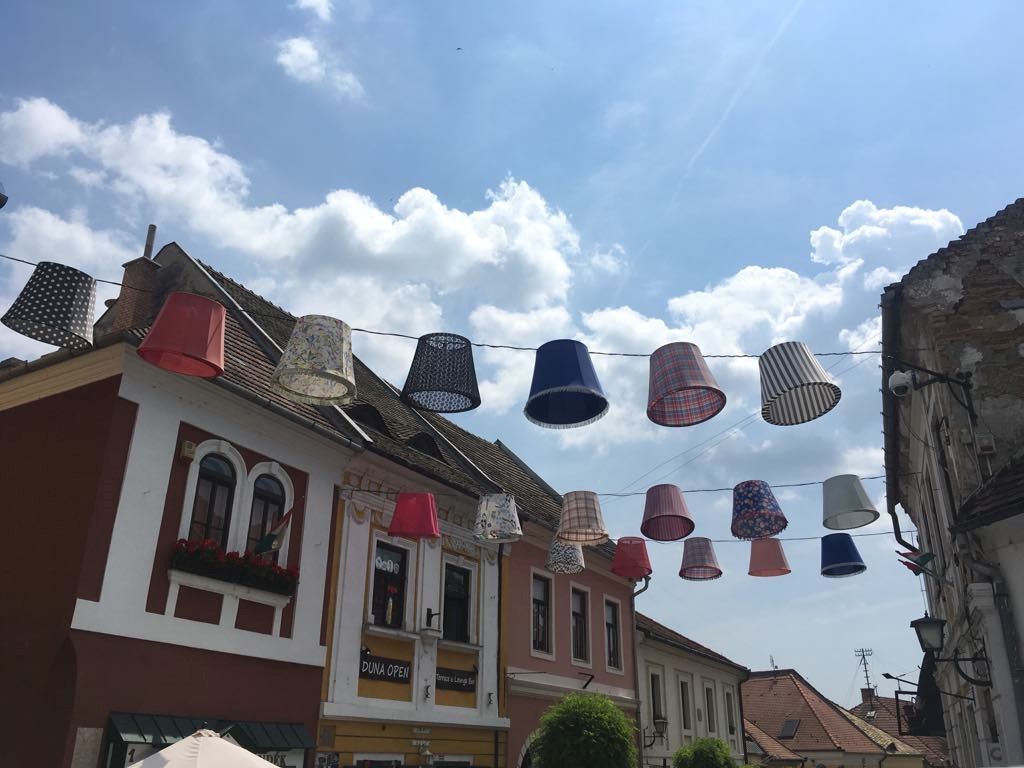 Strings of colourful lampshades above the main square
I think its best to visit Szentendre as I did without a specific plan in mind – it's so lovely to spend time browsing the stores, admiring the architecture, strolling through the town along the cobbled streets and tasting what's on offer. There are numerous cafés and restaurants to choose from. Of course most of them are located in the town center and along the river, but it's worth heading up narrow quieter alleyways to discover more intimate and authentic places. You can choose from Hungarian, Italian, Indian and many other cuisines. This is definitely not a place for the poor souls on diet! Langos is a must have – you can't resist it after you walk past one of the stores and smell them frying. Then there's the ice cream – another must have if you're visiting Szentendre in warmer months. Be warned though, there are so many ice cream stands and parlors with delicious and unique flavours it may take you an eternity to decide which one to buy. I settled on a classic chocolate from the aptly named Centrum Fagyizó and also tried their Sesame Seed flavor.
Szentendre is well-known as an artist colony with many galleries and museums where you can admire artwork. There is even the Micro Art Museum where you can only see the tiny artwork through a microscope! Szentendre also has many beautiful churches. My favourite one was the Serbian Orthodox Church, which also has a small museum. There used to be a large Serbian population in the past here in Szentendre.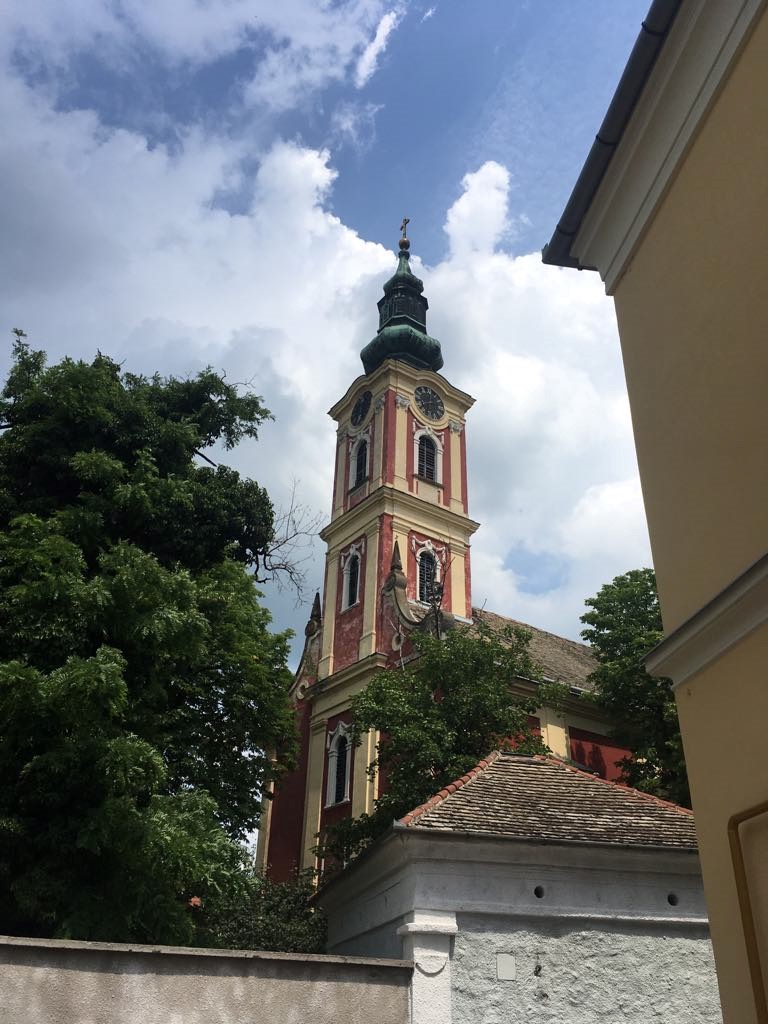 The brightly coloured spire of the Serbian Orhtodox Church.
There are many other museums in Szentendre. It is impossible to see them all so choose which one(s) you will visit wisely! The ones most intriguing to me were the Marzipan Museum, National Wine Museum, Transport Museum and the Retro Design Center. Here you can see artifacts of the 60s and 70s – games, books, appliances and other gadgets; it's like getting into a time machine. Then there are about 30 different cars you can look at, and some which you can get into, including a bus, motorcycle side-car and the 'Communism era car' the Trabant.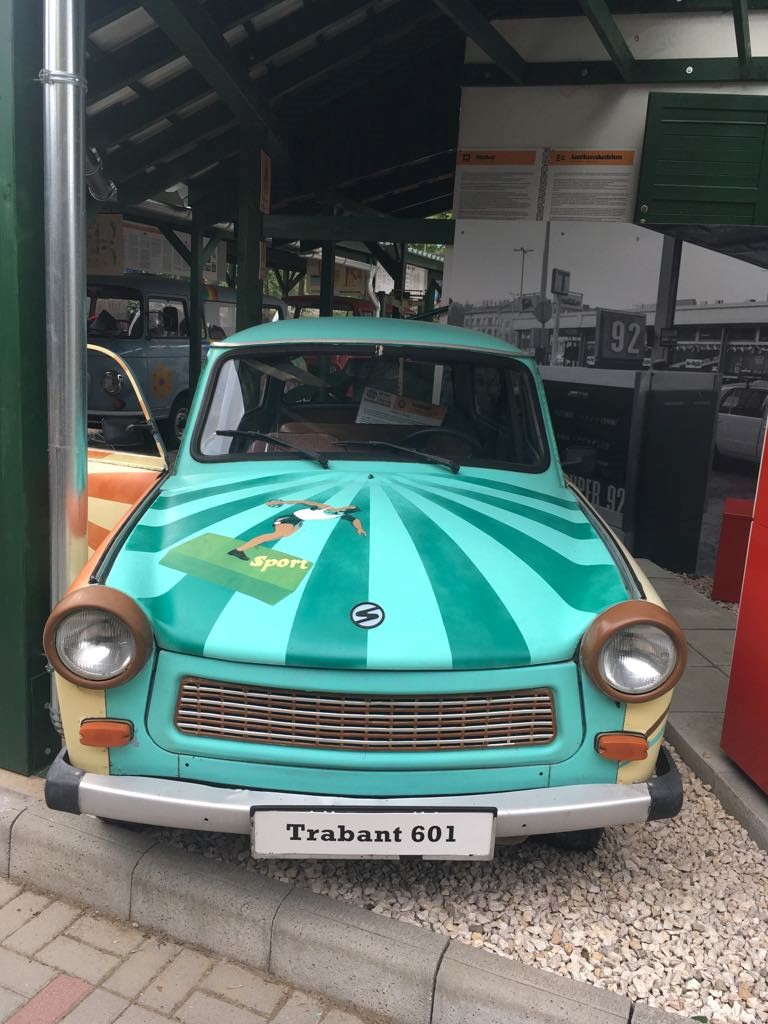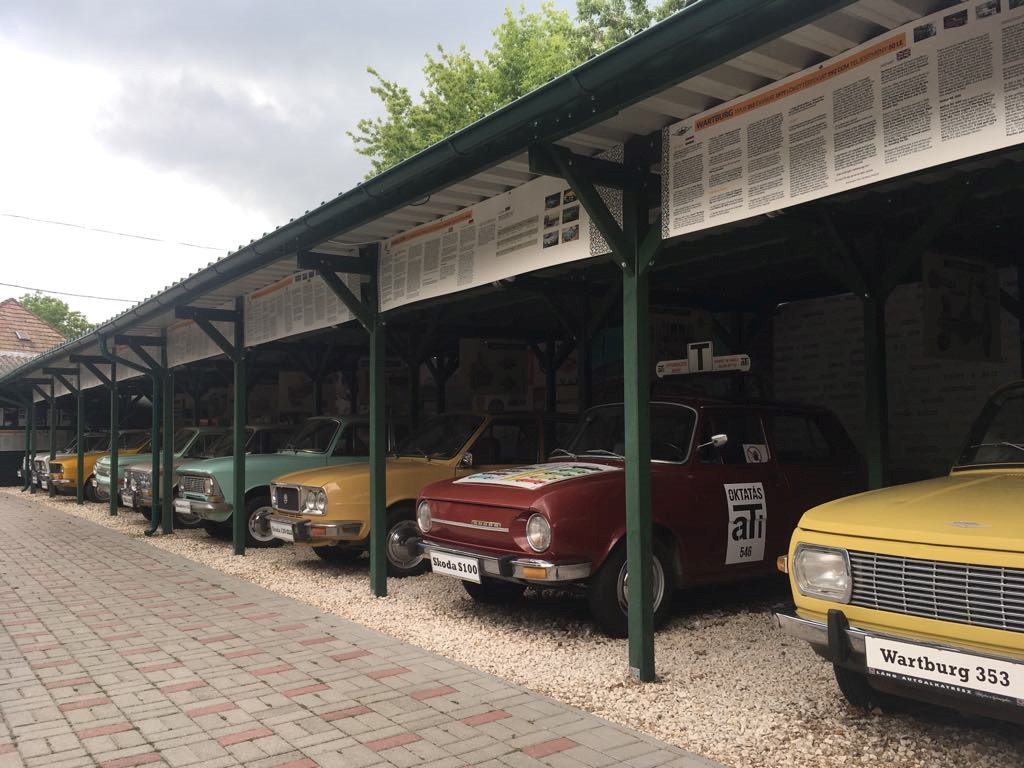 There is a collection of 30+ different refurbished vehicles at the Retro Design Centre
I had been told that Szentendre is a very popular day trip from Budapest for tourists, especially on sunny weekends, so I was a bit nervous that it was going to be crowded and busy, and not the relaxing and quiet escape I was looking for! However, this luckily was not the case. The town center and restaurants along the Danube were busy but not overcrowded, and it was so easy to escape the crowds. You can just walk a bit away from the hotspots, up a charming alley and find solitude. I explored the town and found a sculpture park, Japanese Garden, and many quiet alleyways which were free from tourists and very peaceful. Even sometimes when we were inside some of the churches and museums, we were the only people.
While strolling along the river we came across a sign and timetable for the ferry that serves the route between Budapest and Esztergom. The ferry was going to depart for Budapest in the evening around the same time we had planned on leaving, so my travel companion and I decided that we would take the ferry instead of the HEV back to Budapest like we had originally planned. This turned out to be a great decision. I always knew the Danube was beautiful in the city but it has a completely different beauty outside the city. The ferry chugged downstream past the enormous Szentendre-sziget as the sun was setting. There were dark storm clouds threatening in the distance but luckily the rain stayed away. The surroundings were so green and lush, and there were no buildings for a while except for a few houses along the shore. We sailed past people paddling and canoeing, and people on speed boats fishing. It truly felt like a different river to the one that runs through Budapest. Eventually we started passing by the northern most parts of Budapest and under the Arpad and Margit bridges, and then we had a spectacular view of the parliament building as we docked at Batthyany ter.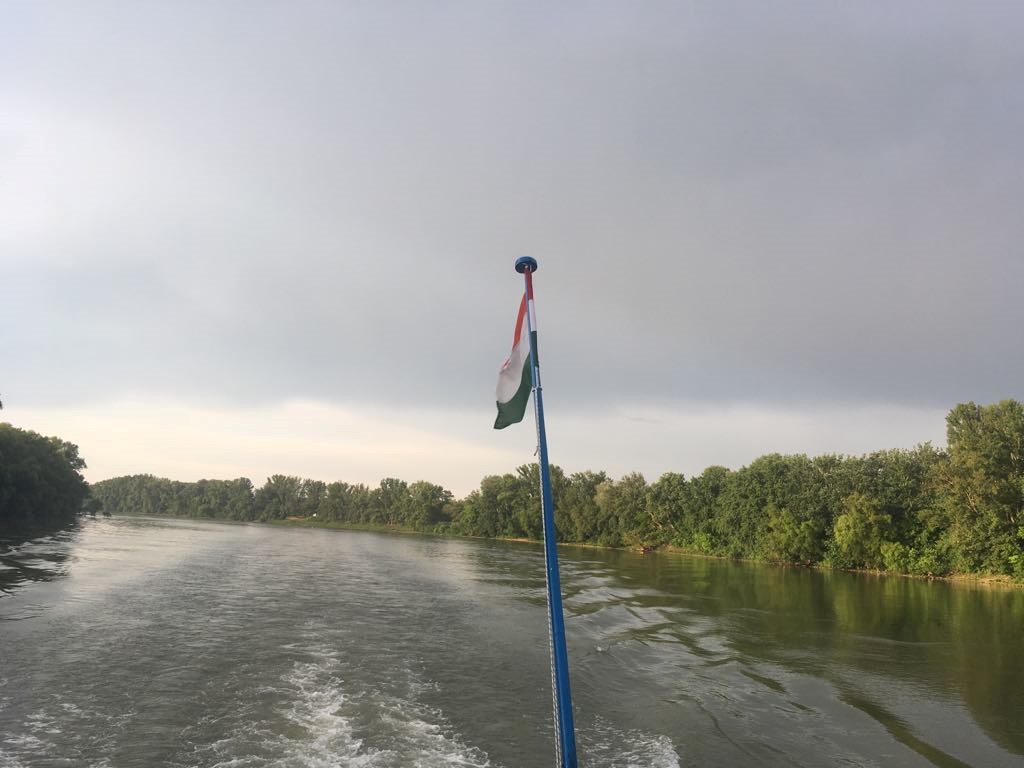 There are many ways of travelling between Budapest and Szentendre. One of the most scenic and enjoyable is by ferry.
I would definitely recommend a visit to Szentendre to anyone living in or visiting Budapest. It is not only a quiet peaceful retreat from the city, but this tiny historic town is packed with interesting things to see and do. Many foreigners just stay in Budapest when they come to visit and do not venture outside of the city, but there is so much more to Hungary than Budapest. Hungary is filled with other places to explore - mountains, castles, wine regions and of course the Hungarian sea, Lake Balaton. I cannot wait to keep exploring and discovering more of the beautiful towns and countryside that Hungary has to offer.
Written by Paula Louw
Photos provided by Paula Louw