Apply for a Stipendium Hungaricum Scholarship
How to apply for a scholarship?
Please click on the picture for the PDF version.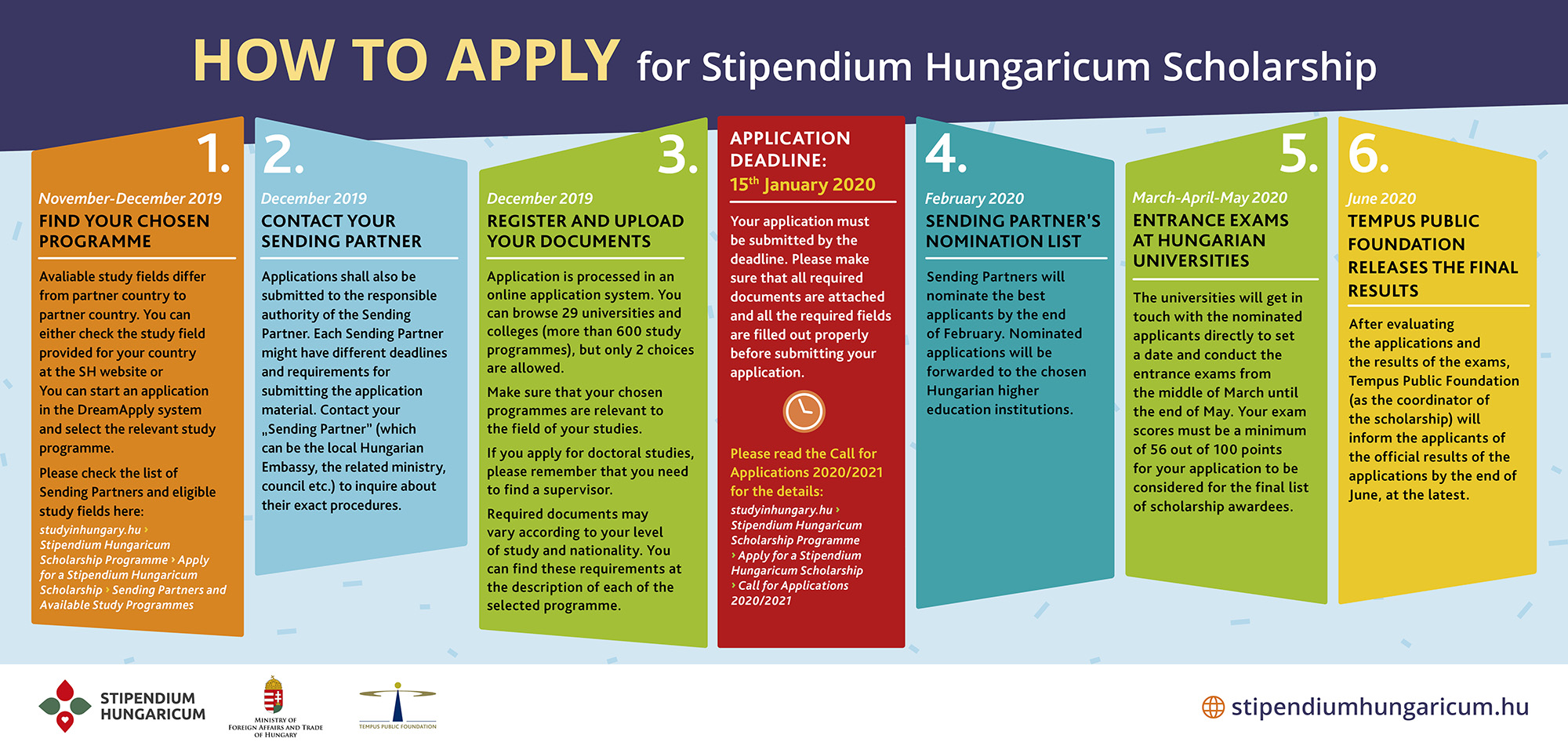 Find out more about the application process
Frequently Asked Questions
Are there any scholarships available for foreign students in Hungary?
Yes. Foreign students have the opportunity to study in Hungary with different scholarships. For example, students from non-EU countries can apply for the Stipendium Hungaricum Scholarship. Currently more than 50 sending partner countries are engaged in the programme from 4 different continents. Please visit the scholarship website and check whether you are eligible to participate in the programme. There are also bilateral state scholarships for research, full-time studies, semester studies and summer courses. They are available only for certain countries so please check if you are eligible to apply or not. EU citizens can study in Hungary with Erasmus+, CEEPUS or EEA grants.
Explore scholarships for funding your studies and other funding options.
Can I study in English in Hungary?
Yes, there are approximately 500 study programmes available in the Stipendium Hungaricum Programme. Most of them are offered in English, some in German and in other foreign languages.
If you are interested in Erasmus+, CEEPUS, EEA grants or other European exchange programmes, please contact the international coordinators of the Hungarian higher education institutions directly.
Do most people speak fluent English in Hungary?
Students in Hungary start learning English in primary school, therefore most young people are able to communicate in English. In a university environment, you should not have any problems in this respect.
How difficult is it to learn Hungarian? Why do people say Hungarian is one of the most difficult language?
Learning Hungarian is definitely challenging, and the reason is the unique nature of the language. While most European languages belong to the Indo-European language family, Hungarian is in the Uralic language family together with Finnish and Estonian. However, Hungarian has followed a very different development path and nowadays shares almost no similarity with Finnish or Estonian. Most people who start to learn Hungarian have the impression that the grammatical structure as well as the vocabulary is totally unfamiliar to them as it normally does not resemble to the languages they know. Also, Hungarian is an agglutinative language, meaning that it relies heavily on the use of suffixes and prefixes.
If you are interested in learning Hungarian, click here for courses provided by Hungarian higher education institutions.
Are there many international students at Hungarian universities?
Yes. Every year thousands of foreign students arrive from all over the world to study in Hungary. Some of them come with different scholarship programmes (e.g. Erasmus+, Stipendium Hungaricum, etc), while others pursue self-financed studies. Currently we host 30,000+ international students in Hungary.
Apart from Budapest, are there any other university towns in Hungary?
Foreign students are welcome to study not only in Budapest, but in many other parts of Hungary as well. The list of Hungarian universities is available here.
You can read about other university towns in Hungary, if you click here.
Also, if you like our Facebook page, you will be updated frequently about news related to the entire Hungarian higher education and all universities: https://www.facebook.com/studyinhungaryofficial
Is it possible to work during university studies? Can the university staff assist you to get a job?
Yes, it is possible. On the basis of the effective legal regulations third-country citizens with residence permits for study purposes can engage in any full-time occupational activity during their term-time for maximum twenty-four hours weekly, and outside their term-time for a maximum period of ninety days or sixty-six working days in a year.
Most universities have Career offices where they help students to get a job, they publish job opportunities available for students and they help with administration procedures. To get up-to-date information about these opportunities, contact the Career office at your university.
For more information, you can visit this link on our website: http://studyinhungary.hu/living-in-hungary/menu/formalities/work-in-hungary.html
Where is Hungary located?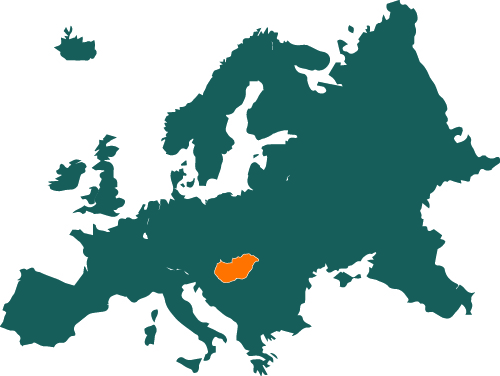 Hungary is a landlocked country in Central Europe. The country is situated in the Carpathian Basin. Hungary is bordered by Slovakia to the north, Romania to the east, Serbia to the south, Croatia to the southwest, Slovenia to the west, Austria to the northwest, and Ukraine to the northeast.
Hungary is a member state of the European Union since 2004.
Is it easy to travel around the neighbouring countries of Hungary?
Hungary is situated in the heart of Central Europe. Capitals of Central European countries, like Vienna or Bratislava are easily accessible by train from Budapest within three hours. In Central Europe there are no big distances, therefore your travel should not take too long, couple of hours only. The website of the Hungarian State Railways is available in English; therefore, you can plan your travel to the surrounding countries.
You can plan your trips on the website of Hungarian State Railways (MÁV) in case you wish to travel by train or choose international buses here.
Is it difficult to visit other Hungarian cities by public transport?
Travelling within the country is very convenient since Hungary has all forms of public transport such as buses, trains as well as private car transfers. The country has a modern and well-developed road system and an extended railway network. University towns are accessible via motorways or railway. Railway services are operated by the Hungarian State Railway, also known as MÁV. All main cities are linked to each other, usually via Budapest. Regular coach services connect towns throughout the country. The national bus company is called Volánbusz.
More information about domestic destinations is available at the website of Hungarian State Railways (MÁV) or Volánbusz.
How reliable is the urban public transport in Hungary?
Urban transport is well-developed in Hungary. Budapest has a network of several bus, tram and trolleybus routes as well as four metro lines. You must purchase transport tickets and validate them once aboard. If you travel without a ticket, you can be fined on the spot. Penalty fares are rather high, therefore do not forget to validate your ticket. Other university towns, such as Szeged, Miskolc and Debrecen have a tram system and all have a network of local buses as well.
What's the weather like in Hungary?
Hungary is protected from extreme weather conditions by the surrounding mountain ranges, the Alps and the Carpathians. The country is in the temperate zone and has a relatively dry continental climate. There are big differences in temperature between the four seasons: summers are hot, while winters are fairly cold. Average temperatures range from -1 °C in January to 21 °C in July.
Spring officially starts on 21 March. The most precipitation occurs in late spring and early summer (May and June). Generally, the most pleasant weather is between May and September, when days are warm and the nights are cool.
Summer officially starts on 22 June. July is the warmest month with an average temperature of 21°C. September is the start of autumn in Hungary.
Autumn officially starts on 23 September, the days are still warm but not as hot as in the summer. In the end of October, beginning of November the temperatures fall significantly. As the last month of autumn, November is rather rainy in Hungary.
Winter officially starts on 21 December. The days are shortest and the nights are longest at this time. Heavy snowfalls are possible during winter, which usually lasts until the end of February.
How much money you need (monthly) to live comfortably in Hungary?
The Study in Hungary team of the Tempus Public Foundation developed a cost of living calculator for foreign students. You can check the prices in different towns in HUF, GBP, EUR, USD, JPY and in CNY as well so you will know how much money you need to live in Hungary.
Click here to calculate your living expenses.
Where to buy food in Hungary?
Foreign students who are currently studying in Hungary recommend to buy food in Tesco, SPAR, Lidl or Aldi. These are well-known supermarket chains, which have stores across Europe and provide standard quality.
Are there any Kosher or Halal restaurants in Hungary?
Due to its size, Budapest has the most shops selling food that meets religious guidelines but other university towns also has some places to provide such services. Also, there are many Turkish and Arab restaurants as well as Kosher restaurants that offer food in compliance with these guidelines.
Can I buy vegetarian or vegan food in Hungary?
Although Hungarian cuisine is famous for its goulash and being meat-based, you would be surprised how easy it is to find places that avoid meat or animal products. There are numerous Hungarian dishes prepared with potato, cauliflower, cheese, mushroom or zucchini and other vegetables. Salads are also well-known in Hungarian cuisine and popular among people. There are several restaurants that specifically serve vegetarian and vegan needs as well as shops where you can purchase all those plant-based products that you need in such a diet.
Is it possible to maintain a gluten-free or lactose-free diet in Hungary?
Just like in other European countries, healthy food trends have taken off in Hungary too. You can buy gluten-free and lactose-free products in most supermarkets nationwide including a wild range of milk substitute products. There are several bio shops in every city where all free-from products can be purchased easily, also many bio webshops are available for online shopping.
Stipendium Hungaricum Scholarship Programme
Do Stipendium Hungaricum applicants have to pay for their application?
No, the online application (registration) and the participation in the admission examinations is free of charge. Do not apply through any agencies unknown by the selected Host Institutions (see our website for the list of agencies known by the universities) and do not pay for their services regarding the application because the programme is implemented by direct cooperation with the responsible authorities of the Sending Partners, not agencies.
Where can Stipendium Hungaricum applicants get information about the application?
Where can applicants get help for the online application system?
Do applicants need to register anywhere else than the Stipendium Hungaricum Programme's application system?
Which study programme can an applicant apply for?
Can the applicants apply straight to the universities for Stipendium Hungaricum Scholarship?
Do applicants need admission from the university?
No - by the application deadline. Admission examinations will take place later, around April-May.
Do applicants have to be nominated by their country?
Yes, only the nominated applicants will be forwarded to the universities.
Do applicants need valid passport for the application?
You can start and submit your application without a passport. Instead of the passport copy, you can upload the scanned copy of any document that may be used to prove your identity (e.g. your national ID card). In case you do not have any identification document before the application deadline, you can upload a signed declaration in which you state that you will obtain and upload the required document before 1 August.
Later though, if you are awarded with the scholarship, you will definitely need a valid passport in order to be able to enter Hungary.
What does the medical certificate have to contain?
There is no form provided by Tempus Public Foundation for this certificate. It can be any certificate that the particular hospital uses or the particular physician issues. It has to be issued and signed by a physician to prove that the applicant does not have the following illnesses: AIDS, Hepatitis A, B, C or any other epidemic conditions. The date of issue cannot be earlier than 1 December 2017.
Can applicants submit their language and school certificates later than the deadline?
Do applicants get an e-mail when they submit the application?
No, they don't. They can see it in the online system that the status of their application has changed to "Submitted" – or if they make any modifications it changes to "Resubmitted".
Can applicants bring their family?
Yes, it is possible but the Stipendium Hungaricum office does not provide visa, administrative services (e.g. supporting letters) or any additional contribution (e.g. financial support) to family members or accompanying persons.
Why some countries are not eligible to apply?
Because there is no valid educational cooperation programme between those countries and Hungary.
Is it possible to submit an application for the scholarship programme more than once during the year?
No, there is only one application deadline each year.
What happens if you miss the application deadline?
In this case, you can only apply one year later. Applications are not accepted after the deadline.
Can I study in Hungarian as a scholarship holder?
Yes, you can. You have two options to do so:
If you do not speak any Hungarian yet, you can apply for a preparatory course first. After one year of intensive Hungarian learning, you are expected to continue your studies in a bachelor, master or doctoral programme in Hungarian.
If you have at least an intermediate (B2) level of Hungarian language knowledge, you can also apply for a study programme in Hungarian on all the available study levels that are listed here.
As a scholarship holder, can I request an extension of my study period?
If you are doing
- a full-time bachelor, master or one-tier master programme → YES
- partial/semester studies → NO
- a doctoral programme → NO
- a preparatory course → NO
- a specialisation course after bachelor or master studies → NO
The possibility and process of the extension of the duration of studies is and has always been determined by the relevant Hungarian legislation.
According to that, the doctoral programmes in Hungary cannot be extended, regardless of the starting date of studies. There is no exception to this regulation.
For those students who started their doctoral studies before 2016, section 47, paragraph (2) of Act CCIV of 2011 on National Higher Education (ANHE) in force at that time is applicable: "The financing period for students enrolled in doctoral programmes may not exceed a maximum duration of 6 semesters". The structure and provisions of doctoral programmes changed from the first semester of the academic year 2016/17, but these changes are not applicable to those who started their studies earlier.
In the case of doctoral studies, the legal framework does not provide the possibility to extend the time of studies, which is reflected in the Stipendium Hungaricum Programme Operational Regulations (IV.3.4), as well.
Can I make modifications in my online application after I submitted it? Can I edit my priorities, for example?
Certain modifications are possible. For instance, you can upload those documents that you did not have before the application deadline.
However, it is not possible to edit your priorities in your online application. You cannot add new courses and you cannot edit the order of the priorities.
Also, please do not delete any of the selected courses. In this way, you would only lessen your own chances to get into a university.
Is it possible to postpone the beginning of my studies?
It is possible to postpone exclusively because of health issues or unexpected reasons through no fault of his/her own. If there is such a vis maior case, some kind of proof (i.e. a medical certificate) must be submitted to the Study in Hungary Unit of Tempus Public Foundation, together with a written request. The host higher education institution and the Sending Partner must also approve of the postponement. Those students who have already arrived in Hungary and enrolled in a higher education institution are not entitled to request any postponement.
(Further information in section IV.5. of the Operational Regulations.)
I am already studying at a Hungarian university as a self funded student. Can I apply for the Stipendium Hungaricum programme?
Yes, in principle, but those applicants who are registered self-financed / fee-paying students of a Hungarian higher education institution at the time of the application deadline AND who are now applying for the same study level are only eligible to apply for the Stipendium Hungaricum programme if
- they are recommended by their Hungarian host universities where they are studying at the time of application, AND
- if their cumulative, corrected sum average ("összesített korrigált kreditindex") is higher than the students' average performance at the particular study programme ("szakátlag").
Is it compulsory to study Hungarian during my studies in Hungary?
Yes, starting from the 2019/2020 academic year, every student studying at a full-time bachelor and master programme will be required to study Hungarian as a foreign language for two semesters. Those who do not attend the course and do not pass the exam will lose all or part of their monthly stipend.
Do I have to pay for the Hungarian language course?
No, the compulsory Hungarian as a foreign language classes will be free.
I am planning to study as a part-time student, do I have to study Hungarian as a foreign language?
No, only full-time undergraduate and postgraduate students will be required to complete two semesters.
I am applying for a PhD degree programme, do I have to study Hungarian as a foreign language?
No, only full-time undergraduate and postgraduate students will be required to complete two semesters.
Do I have to look for an institution where I can learn Hungarian as a foreign language?
No, language classes are provided by the Host Institution.
Contact us for more details about the programme.
​

+36 (1) 236 5040
Monday-Thursday 8:30-17:00, Friday 8:30-14:30
Central European Time – UTC+1
Back to the main page of Stipendium Hungaricum Scholarship Programme