Universities
We redesigned our database and categorised the universities by study areas. In the Comprehensive Universities category we listed the universities with wide profile, which offer courses in various study areas. The universities with simple profile are listed under the category of their main study area.
If you look for universities in a specific study area, please use the search module below to get results from every category.
University of Debrecen
Debrecen, Egyetem tér 1.
About
With a student body of about 28,500 the University of Debrecen is one of the largest institutions of higher education in Hungary today.
The cooperation of fourteen faculties ensures the multidisciplinary background guaranteeing the University a leading role as a research and education institution, and the intellectual center of Eastern Hungary.
The University, with an academic staff of ~2,000 and non-academic staff of about ~5,000, does everything in its power to fulfil the role of one of the most prestigious universities of the country. In 2007 our institution was the first to receive the highest degree of the Higher Education Qualification Prize awarded to the most reputable Hungarian higher education institutions.
Main facts about the University
28,500 students
7000 international students from 120 countries
~ 2,000 academic staff
14 faculties on 8 campuses
24 doctoral schools
~ 80% of the instructors have doctoral (PhD) degrees, and
110+ professors are doctors of the Hungarian Academy of Sciences
521-530 in QS WUR 2021
151-200 in THE Europe Teaching Ranking (2019)
UD conducts 14-15% of the volume of research carried out in Hungary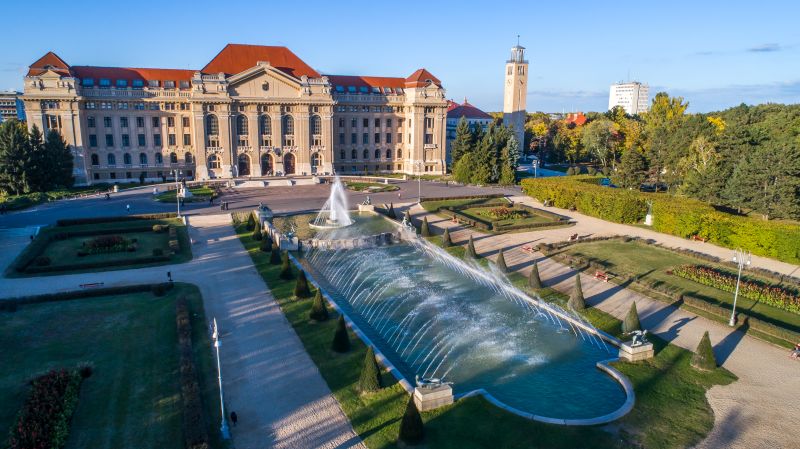 The city of Debrecen
Debrecen is a charming and fast-growing town of around 204,000 habitants in the heart of Europe with an international airport as well as train connections and direct highways to other European cities like Vienna, Krakow or Prague.
Study area
Level
---
Study area
Agricultural Science
Arts and Art Education
Arts and Humanities
Computer Science and Information Technology
Economic Science
Legal Science
Medical and Health Science
Natural Science
Engineering Science
Level
BA/BSc
MA/MSc/MBA
PHD/DLA
one-tier Master course
preparatory program